Application - for vertical transport of pallets on the hook of an overhead crane.
Other dimensions of the forks for pallets are also available if agreed with the producer.
The producer meets the requirements of the Polish Standard PN/M-06521 in the range of designing and of PN/M-84702 in the range of general inspection and specifications as well as complies with ISO 2328.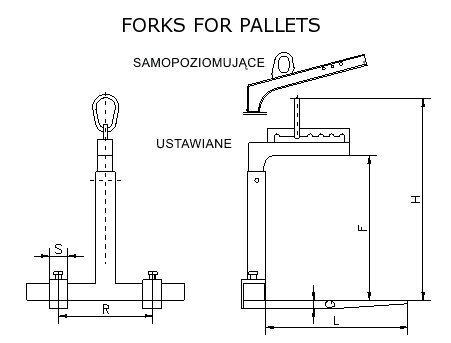 Product specification:
Settable
Lifting capacity kG
F
G
H
L
R
S
Weight kg
2000
1250
1500
1750
40
1600
1850
2100
1000
250 - 900
100
160
3000
1250
1500
1750
50
1600
1850
2100
1000
250 - 900
120
220
Selfpositioning
Lifting capacity kG
F
G
H
L
R
S
Weight kg
2000
1250
1500
1750
40
1600
1850
2100
1000
250 - 900
100
160