Application - for reloading and transport.
The holder is fastened to the forks.
Other dimensions of the holder with a hook are also available if agreed with the producer.
The producer meets the requirements of the Polish Standard PN/M-06521 in the range of designing and of PN/M-84702 in the range of general inspection and specifications as well as complies with ISO 2328.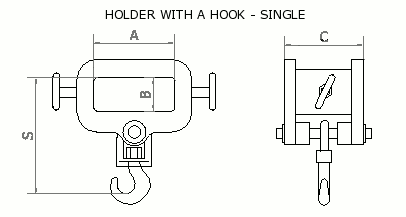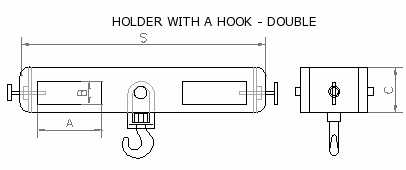 Product specification:
Holder with a hook - single:

| Lifting capacity kG | A | B | C | S | Weight kg |
| --- | --- | --- | --- | --- | --- |
| 2000 | 130 | 60 | 130 | 260 | 20 |
| 3000 | 160 | 75 | 140 | 320 | 25 |
Holder with a hook - double:

| Lifting capacity kG | A | B | CB | S | Weight kg |
| --- | --- | --- | --- | --- | --- |
| 2000 | 130 | 55 | 140 | 750 | 40 |
| 3000 | 150 | 60 | 140 | 750 | 50 |