Hydraulic shovel (on caret)
Application - transport of loose materials and snow removal.
Other dimensions of the hydraulic shovel are also available if agreed with the producer.
The producer meets the requirements of the Standard PN-ISO 3691 in the range of designing and of PN/M-84702 in the range of general inspection and specifications.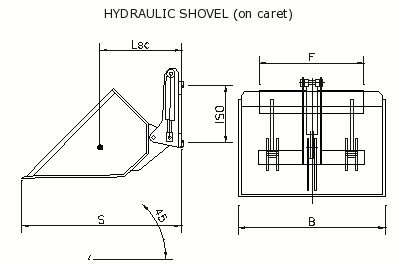 Product specification:

| Bucket capacity m³ | Class of ISO | B | A | S | F | Lsc | Weight kg |
| --- | --- | --- | --- | --- | --- | --- | --- |
| 0,45 | II / III | 1100 | 800 | 1350 | 900 | 550 | 250 |
| 0,60 | II / III | 1300 | 800 | 1350 | 900 | 550 | 280 |