Working platform – equipment to be installed on a forklift truck to ensure a safe workplace.
Application - installation work, elevating repairs.
Other dimensions of working platforms are also available if agreed with the producer.
The producer meets the requirements of the Polish Standard PN/M-06521 in the range of designing and of PN/M-84702 in the range of general inspection and specifications as well as complies with ISO 2328.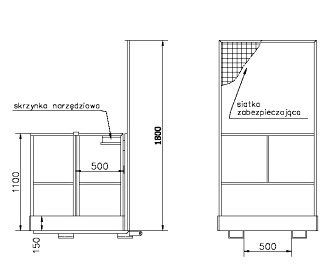 Product specification:
The standard dimensions:
800 x 1200 x 1800 mm
1200 x 1200 x 1800 mm